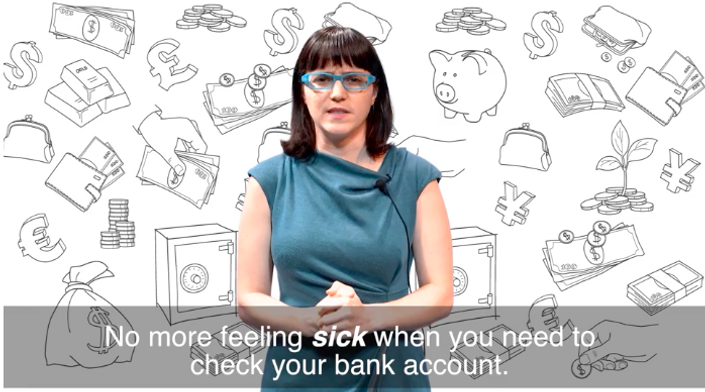 Transform your financial life! Now you can access the curriculum that has helped hundreds of students in Oh My Dollar! classes and workshops.

Say goodbye to financial stress. Make a plan tailored to your real-life priorities and goals. After Get Your Money Together Bootcamp, you will:
Manage your money--instead of letting it manage you
Be confident in your plan to pay off your debt--and know exactly how long it will take
Enjoy life more! Have lunch out with your friends or take a vacation--it's in the budget
Know exactly how much money you need to set aside for retirement--and how to start
Learn at your own pace, on your own time. You'll receive all the lessons to complete at your convenience.

Lesson Plan:
Lesson 1: Your money and your values: Identifying your priorities
Lesson 2: Budgeting: How to do it, even if you have never succeeded at budgeting
Lesson 3: Tools of the Trade: Understanding the systems, apps & software out there for managing your money
Lesson 4: Saving with a plan and purpose - build your emergency cushion and break the paycheck-to-paycheck cycle
Lesson 5: Crafting a debt payoff plan and understanding your options (and rights!)
Lesson 6: Understanding your credit score and how and when to build a credit history
BONUS: The basics of mortgages
Lesson 7: Crafting a retirement strategy that doesn't hurt financially and gets you on track including DIY investment strategies (you probably DON'T need a financial advisor)
Lesson 8: Choosing insurance that makes sense for you (and avoiding crappy scam insurance)
Real Testimonials from Real Students
As an artist with ADD, I fell into the cliché of being bad with finances, afraid to look at my bank account. That approach wasn't doing it for me any more, so I signed up for Lillian's boot camp. We covered budgeting software last week in class, and it is nothing short of a revelation. I'm filled with "kitten-like excitement" about planning for my financial future.
I wasn't asked to endorse her, I'm simply thrilled with the knowledge she's imparting in class, and want to share with the world. Seriously, this information will change your life.
-Elif, money bootcamp graduate


Why Oh My Dollar?
There's a lot of resources out there to learn about personal finance - but so many of them don't take into account the way many of us work these days - variable income, side hustles, no access to things like a 401K.
Or, they proselytize religion along with money management. Or they upsell you credit cards, life insurance, or apps.

Lillian's secret weapon is her approachability - she understands that most of this money stuff has more to do with anxiety, stress, shame, or just confusion about what to do. She won't overwhelm you with numbers (though we will look at your numbers!), but instead give you the clear tools to make the most of your budget + make a plan for your future.

Your Instructor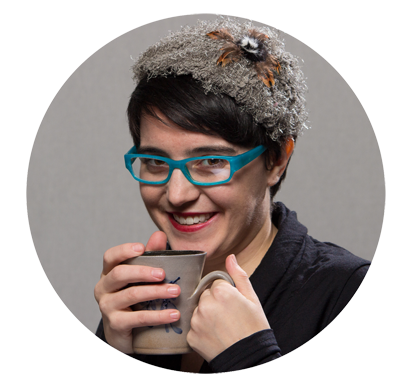 I'm passionate about making people achieve financial well-being no matter their income. It's not about how much you make, but about your relationship to money. For every broke person making six figures (and there's a lot of them!), there's a person who earns a modest salary but is making the right money choices.
Even if it meant working 5 jobs after I got out of college, I've saved nearly half of my income, have stayed debt-free, donated 5% of my spending, and have traveled to over 25 countries on a modest non-profit salary.
I want to help you feel confident about your financial future so you can do what matters to you – and I'll do whatever it takes to teach you what you need to know about money – without the jargon or the product sales!
You can hear me every week on the Oh My Dollar! podcast and if you like, see me dressed as Ziggy Stardust explaining personal finance to a few hundred people.
I make good money, do I really need this stuff?

Maybe you feel like that you're doing pretty good with money - you've optimized your expenses, you always have enough in your accounts to cover an unexpected expense, and you've paid down all your student loans. But you can't totally tell me how much you spent last month on eating out. Or you went on a vacation last year, but you have no idea how much you spent total on the trip. You're fine with that because you're making decent money and you always have enough to provide for yourself.
Now, I want you to imagine that by budgeting, you found an extra $75 a month. You realized that you're overpaying for internet or that you really could forgo that gym membership in the summertime. If you invested that extra $75 a month - which before taxes is actually $100 a month- into a 401(k) - from age 30 until age 65, you'd have a cool half million dollars in your retirement account based on the average rate of return.
Frequently Asked Questions
When does the course start and finish?
As soon as you sign up, you receive access to all of the courses. Money Bootcamp is a completely self-paced online course - you decide when you start and when you finish. You can complete the course on your own time, but I suggest committing to one per week for six weeks.
How long do I have access to the course?
How does lifetime access sound? After enrolling, you have unlimited access to this course for as long as you like - across any and all devices you own.
What if I am unhappy with the course?
I truly believe that this course will improve your life and give you financial control and confidence. If you put in the work and do the exercises and don't change your relationship with money, the course fee is 100% refundable.
Who is this course for?
This course is for any one who wants to change their relationship with money - escape paycheck to paycheck lifestyle or just figure out the best way to approach saving for retirement.